Beginning of a success story.
As Market Leaders in company formation in Qatar, we understand that setting up your business in a new country has both its risks and rewards. Making it work means minimizing those risks and maximizing those rewards. If you are looking to form a company in Qatar, there are certainly plenty of rewards to be had. But you will need the assistance of a professional if you want to minimize your risks and pave a path towards success.

When forming a company overseas, working out all that needs to be done, can be both arduous and complex. The key to getting it right – the key to making the process that much easier – is to find the right company to assist you. This is where Fusion Middle East comes in. With more than 50 years of combined experience, Fusion Middle East provides the know-how and support essential to company formation in Qatar.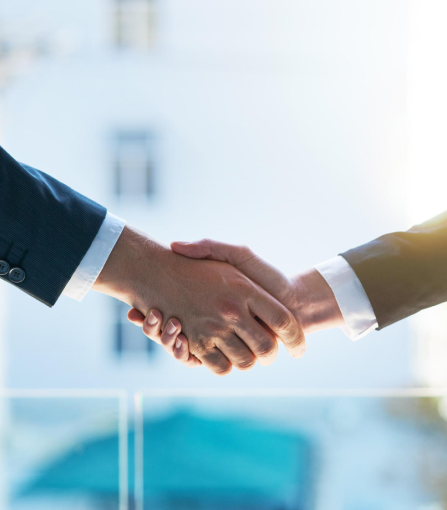 What are the benefits/advantages of local partnership in Qatar?
When setting up a business overseas, these steps can obviously be more difficult to follow. Having a local partner – a professional one you can rely on for guidance and support – is invaluable. If you're thinking about starting a company in Qatar, Fusion Middle East is that partner. In fact, we are the local partner of choice for more than 100 companies.

Partnering with a local company like Fusion Middle East as your business partner can offer numerous benefits for international companies looking to enter or expand in a new market. Here are some key reasons why partnering with a local company can be beneficial:


Market knowledge - Local companies often have a deep understanding of the local market, including consumer preferences, regulatory environment, and business practices. By partnering with a local company, international companies can tap into this expertise and gain valuable insights into the market.


Network and relationships - Local companies often have established relationships with key stakeholders in the market, including suppliers, customers, and local authorities. By partnering with a local company, international companies can leverage these relationships to access new markets and opportunities.


Cultural understanding - Working with a local partner can help international companies navigate cultural differences and avoid misunderstandings or missteps. A local partner can provide valuable guidance on local customs, business practices, and cultural norms, helping international companies to build trust and credibility with local stakeholders.


Cost savings - Partnering with a local company can help international companies to reduce costs by leveraging local resources and expertise. For example, a local partner may be able to provide access to cost-effective local suppliers or manufacturing facilities or help to reduce logistics and transportation costs.


Risk management - Partnering with a local company can help international companies to manage risks associated with entering a new market. A local partner can provide guidance on regulatory and compliance issues, as well as help mitigate risks related to currency fluctuations, political instability, and other market uncertainties.


How can Fusion Middle East Help You?
Local Corporate Partnership ensures legal representation of the foreign company. It involves the management of local rules and regulations and the setting up of companies using a Limited Liability Company (LLC) status. Being a 51% shareholder of a business, the focus is to provide reliability and professional guidance to maintain an appropriate and sustainable legal presence of the entity within the country.

February 2023 marks the 9th year that M1 Support Services has been a client of and partner with Fusion Middle East. Ensuring compliance with all regulatory requirements has been the primary objective of our business operations in Qatar. The Fusion ME team's expertise in company formation, registration, labor, banking, and taxation has proven effective in our ability to meet each Ministry's evolving requirements. Their knowledge and experience provide efficient customer support to minimize wait time and unproductive delays. We look forward to continuing our successful partnership with Fusion Middle East.

William Shelt
General Manager
M1 Support Services, LLC

Hamilton international school has been a client of Fusion Middle East since 2019. The partnership with Fusion Middle East has been working well over the past 4 years. They provide us with business support at the highest level. The team we liaise with is professional and courteous. We highly recommend Fusion Middle East to anyone who is looking for long-term business support.

WMP has enjoyed a business relationship with Fusion Middle East since 2014. During our time working with Fusion, we have found them to be dependable, knowledgeable, and trusted local business partners.
Quite rightly, they have an excellent reputation within Qatar and can always be relied upon to deliver. In an often challenging and dynamic, high-growth market such as Qatar, they provide not only a suite of crucial business establishment and management services but also, wise counsel.

Our experience over the past three years with Fusion has been outstanding. Fusion's support and commitment toward WIS operations ensure that our business requirements comply with local law regulations. WIS would recommend Fusion to be a valued partner for any company starting a Qatar-based business.

Fusion has been a great business partner and a PRO services provider since 2016. They have a profound understanding of our business needs and are experts on legal, commercial, and immigration requirements in Qatar. We appreciate their great support in helping us through major transitions in our company. Fusion is always there, ready to assist and we are happy to continue with them.